The 2021 Kia Seltos is the newest member of the Kia family lineup in the USA. While we have seen the Kia Seltos in foreign markets, the new Kia Seltos will be brand new for the United States. Let's take a closer look at the new Kia Seltos, so you know what to expect. We will look at the trim levels, fuel economy, interior, exterior, features, and ratings of the brand-new Kia crossover SUV. 

View Inventory


2021 Kia Seltos Release Date
The Kia Seltos SUV has been available in other markets but arrived here in the U.S. as a 2021 model. The 2021 Kia Seltos released in February 2020 and is now on sale in Colorado Springs at Phil Long Kia.


2021 Kia Seltos Price
We didn't have all the details about the 2021 Kia Seltos price at first but made some pretty close estimates. With what we were able to dig up, we thought the 2021 Kia Seltos LX would be priced around $22,000, the S model around $23,000, the 2021 Kia Seltos EX for about $25,000, and the top-of-the-line SX for around $29,000. The official pricing on the 2021 Kia Seltos is LX ($21,990), S ($21,990), EX ($25,290), S Turbo ($25,490), and SX Turbo ($27,890).


Ask Us About the All-New 2021 Kia Seltos
2021 Kia Seltos Trims & Configurations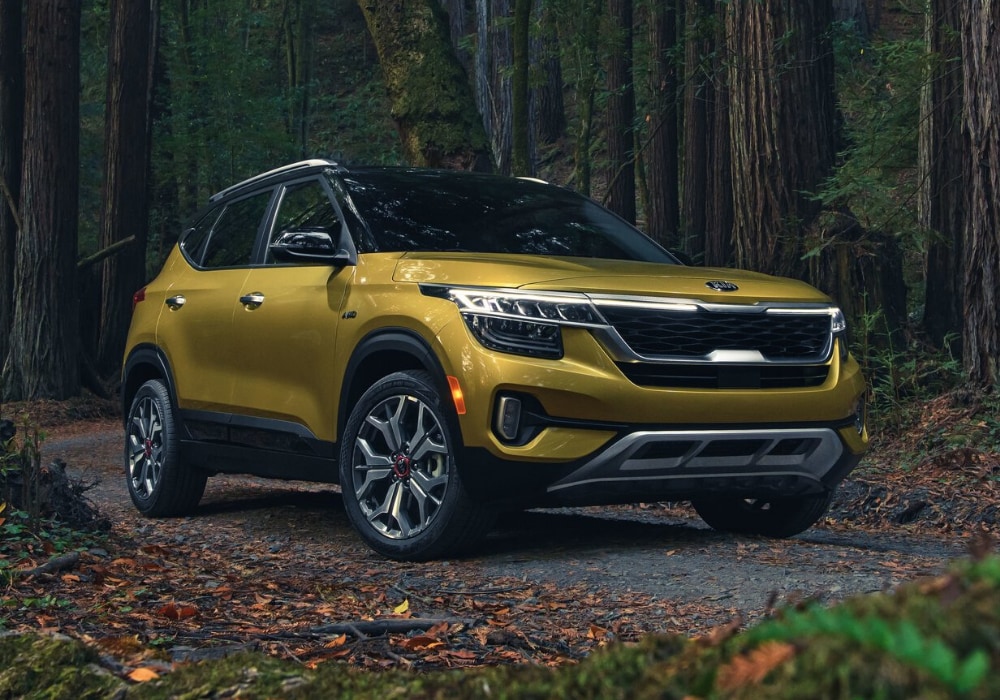 Detailed information was scare to begin with about the 2021 Kia Seltos SUV configurations, but now we have some answers. We did know we would most likely see the classic 4 Kia trim levels (LX, S, EX, SX) but we weren't exactly sure. The 2021 Kia Seltos actually has a variety of 5 trim options: LX, S, EX, S Turbo, and SX Turbo. We even anticipated that the 2021 Kia Seltos SX Turbo would include AWD with Lock Mode, a 10.25-inch touch-screen display, and an 8-speaker Bose Premium Sound system. 


2021 Kia Seltos Performance Specs
The all-new 2021 Kia Seltos comes with the option between two four-cylinder engines. You can choose a 2.0L engine that pumps out 146 horsepower or the 1.6L turbocharged motor with an output of 175 horsepower instead. The base engine features a continuously variable automatic transmission, while the turbo engine is paired to a seven-speed automatic. You can choose an available Kia AWD powertrain with either engine option. 


2021 Kia Seltos Interior Features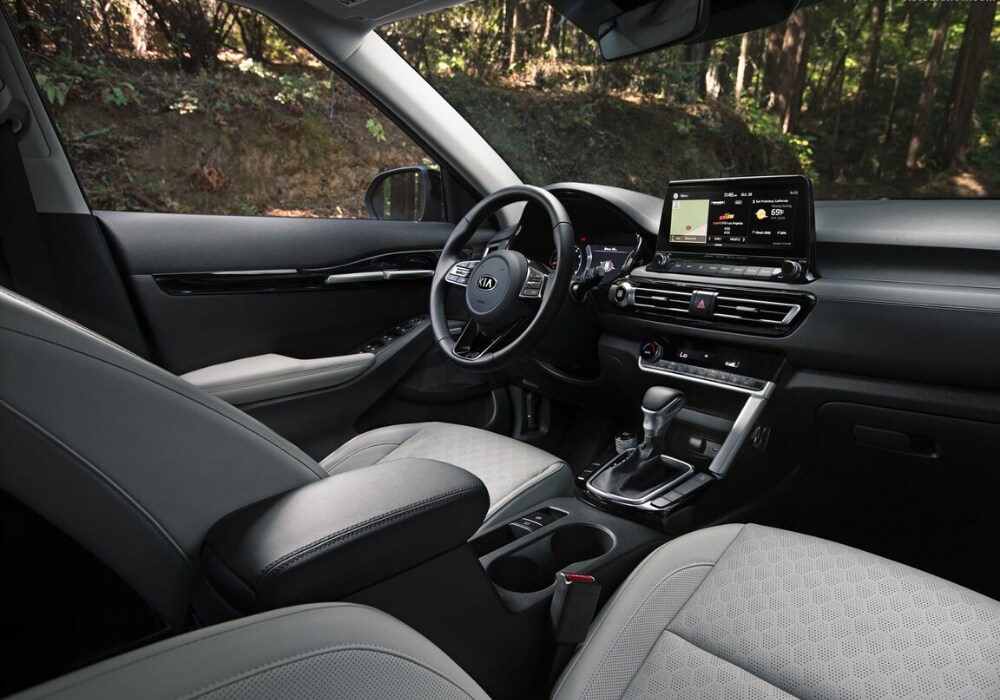 The 2021 Kia Seltos has more space inside than the Hyundai Kona. You can also expect a touchscreen infotainment center, along with Android Auto and Apple CarPlay to come standard. This five-passenger SUV features 26.6 cubic feet of cargo room, with the option to expand to 62.8 cubic feet when the back seat is folded down. The Seltos comes with reclining second-row seats as well. Some of the safety features that will be available include automated emergency braking, blind-spot monitoring, safe exit assist and lane-departure warning. For the interior, you have your choice of 2 different seat trim colors: Black SOFINO or Gray SOFINO.


2021 Kia Seltos MPG
EPA estimates weren't available for a while covering the 2021 Kia Seltos, but we thought to see similar MPG ratings to the Hyundai Kona. This would give the front-wheel-drive Kia Seltos model with a 2.0-liter engine, about 33 mpg on the highway, while the all-wheel-drive Seltos with the turbocharged engine would also produce slightly less numbers with an estimated 30 mpg on the highway. The 2021 Kia Seltos MPG ratings are 27 city/31 highway/29 combined with the base 2.0L and 25 city/30 highway/27 combined with the 1.6L turbo. Even KIA all-wheel drive cars are exceptionally fuel-efficient, and this Seltos model is no different.


2021 Kia Seltos Exterior Dimensions & Colors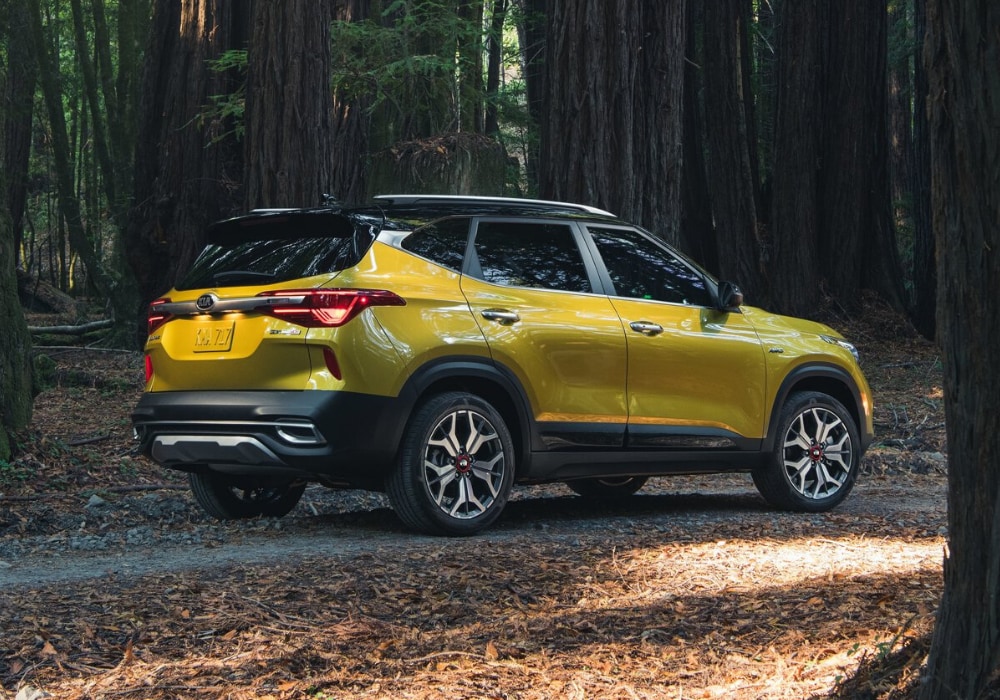 The 2021 Kia Seltos fits the space between a Kia Soul and the Telluride. Among the color options, the 2021 Kia Seltos is available in 8 single-tone colors and 4 duo-tone color choices as well. The Kia Seltos colors include Black Cherry, Snow White Pearl, Steel Gray, Gravity Gray, Mars Orange, Neptune Blue, Dark Ocean Blue, Starbright Yellow, Dark Ocean Blue/Clear White, Dark Ocean Blue/Black Cherry, Starbright Yellow/Black Cherry, and Clear White/Black Cherry.


2021 Kia Seltos Reviews & Ratings
Even before the 2021 Kia Seltos arrived, many publications were giving their opinions. Car and Driver is fond of the spacious interior and "spry handling." Furthermore, KBB points out the "sporty styling," which is sure to be desired among enthusiasts.


New Kia Seltos Inventory in Colorado Springs, CO