If you are looking for a new compact or midsize SUV, you should compare the differences between a 2019 Kia Sorento vs. the 2019 Kia Sportage. Both of these SUVs have a lot to offer drivers, and some fantastic deals are happening right now at Phil Long Kia in Colorado Springs. Let's dive deeper into the comparison regarding the Kia Sportage and Kia Sorento to see which one works best for you.
2019 Kia Sorento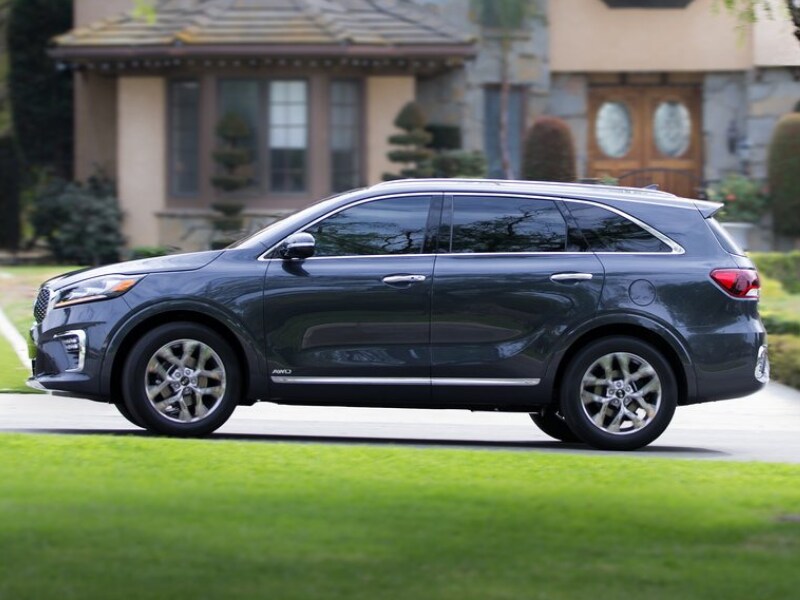 Price
The 2019 Kia Sorento starting price is a little higher than the Sportage. The base model begins at $25,990. There are various configurations, but even the top of the line 3.3 SXL starts at $44,690.
Fuel Economy
The Kia Sorento is remarkably fuel-efficient and can achieve up to 22 mpg city and 29 mpg highway.
Configurations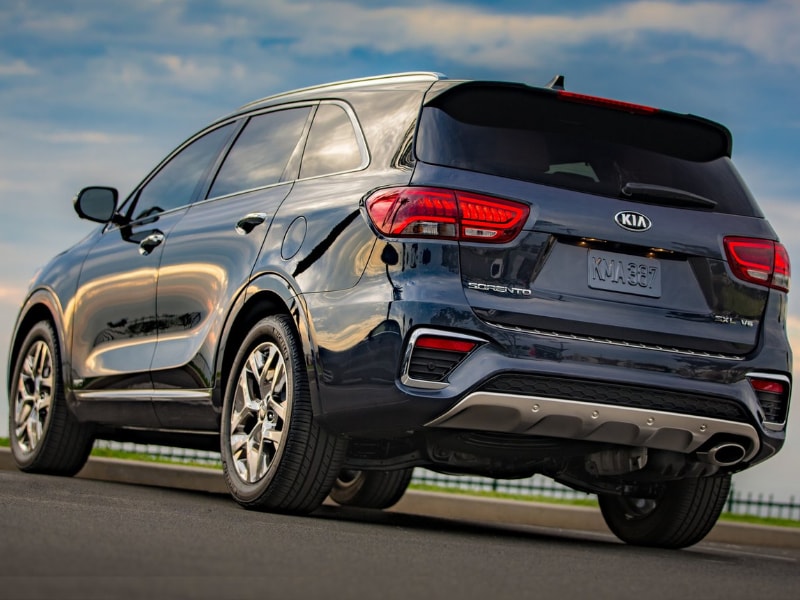 There is a total of 6 options to choose from when you pick a Kia Sorento: L, LX (2.4L), LX (3.3L), EX, SX, and SXL. Many buyers find the EX has everything they need with its V6 engine and driver assist features. If you don't need all of these, you can save money with the LX, but if you desire more, the EX is your best bet.
Kia Sorento Reviews
Cars.com readers awarded the Sorento with 4.8 stars out of 5. For another 2019 Kia Sorento review, look at the consumer rating from KBB. They awarded 4.7 stars out of 5.
Sorento Exterior
The Sorento is slightly more upscale with LED light strips, chrome grille, and fog light surround. It comes in 9 exterior color options such as Sangria, Blaze Blue, Snow White Pearl, Sparkling Silver, Titanium Silver, Passion Red, Dragon Brown, Platinum Graphite, or Ebony Black.
Sorento Interior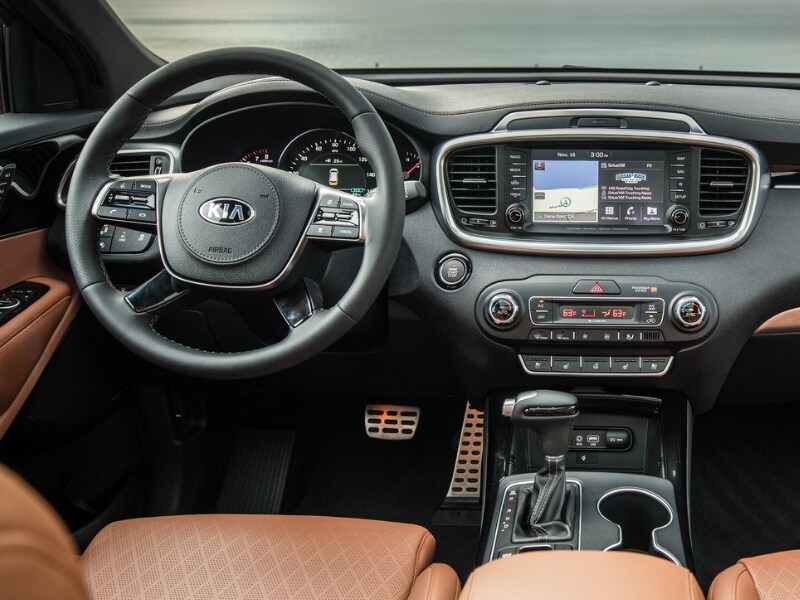 The 7-passenger Sorento features an upscale cabin that offers a panoramic moonroof, digital gauge cluster, 360-degree camera, and adjustable thigh bolsters. The 2019 Kia Sorento interior is more significant than the Sportage and offers 38 cubic feet of cargo room when the third row is up. With both rows down, you can use up to 73 cubic feet of space.
Sorento Lease Deals
There are numerous 2019 Kia Sorento lease deals happening right now. Keep your payment low and get behind the wheel of a model which fits your lifestyle.
2019 Kia Sportage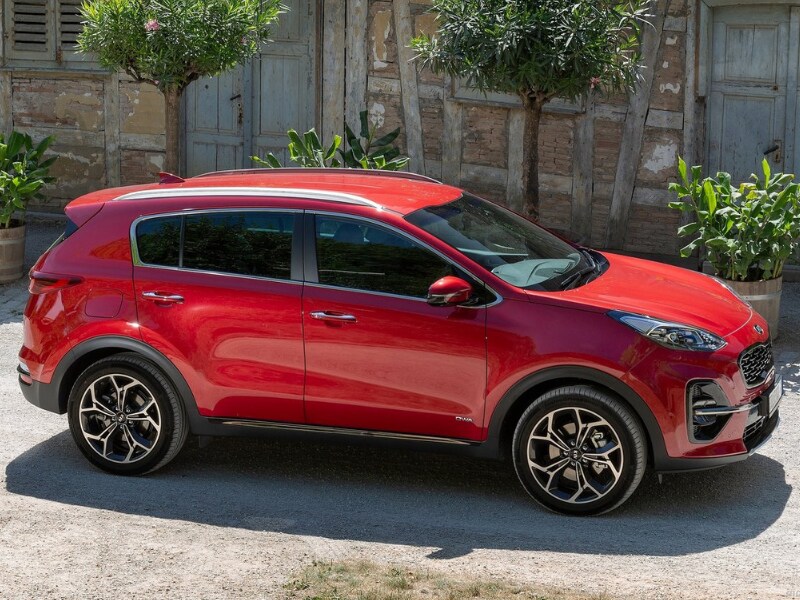 Price
The starting price of the 2019 Kia Sportage is just $23,750. If you want all the bells and whistles, you can get behind the wheel of an SX Turbo AWD model for only $34,600.
Fuel Economy
The 2019 Kia Sportage is fuel-efficient as well. With this SUV, you can expect up to 23 mpg city and 30 mpg highway.
Configurations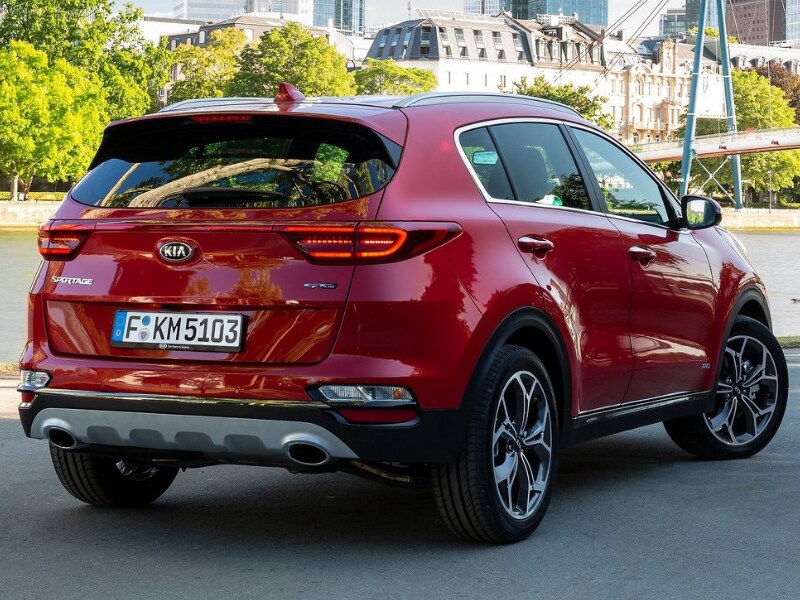 There are only 3 trim options with the Sportage: LX, EX or SX Turbo. All of these come with FWD, but you can add AWD. With the SX Turbo model, you get the turbo-four engine that pumps out 240 horsepower. If you want a decent balance between price and features, the EX is a great option.
Kia Sportage Reviews
U.S. News & World Report listed the Sportage as the #3 Compact SUV on the market. KBB also listed the consumer rating as 4.8 stars out of 5.
Sportage Exterior
The Sportage features a subtle grille, large headlights, and unique U-shaped taillight pattern. The Sportage SX Turbo features dual exhaust pipes. There are 8 color options to choose from: Sparkling Silver, Pacific Blue, Burnished Copper, Clear White, Snow White Pearl, Hyper Red, Mineral Silver, or Black Cherry.
Sportage Interior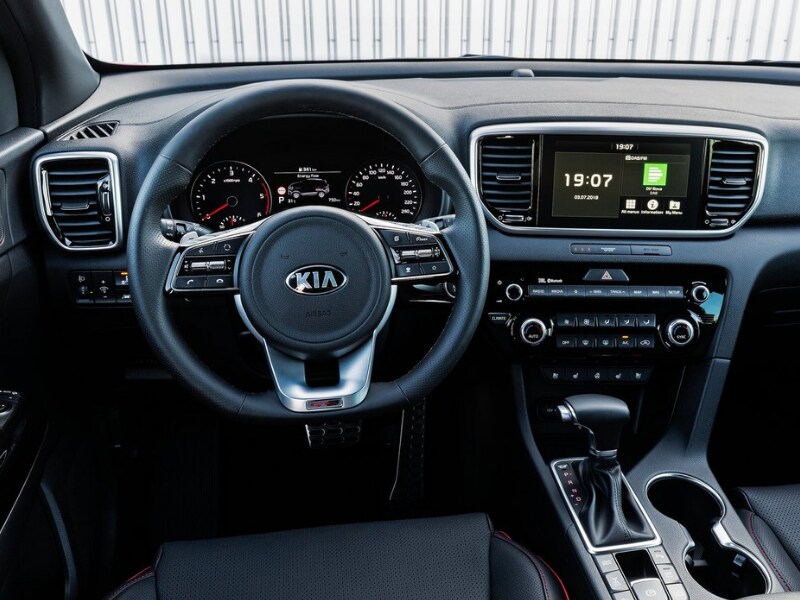 The 5-passenger Sportage comes standard with a 7-inch infotainment screen, Apple CarPlay, and Android Auto. There are available heated rear seats, panoramic sunroof, and a power liftgate. Cargo room behind the second row measures 30.7 cubic feet with a total of 60.1 cubic feet when the seat is down.
Sportage Lease Deals
Check out the 2019 Kia Sportage lease deals going on now at Phil Long Kia. With these offers, you can ride off in a new Kia SUV today.
A New Kia SUV for Every Lifestyle
After evaluating the Sportage vs. Sorento, we suggest the 2019 Kia Sorento. It's clear to see that the Sorento wins in terms of space, configuration options, and features. You will pay slightly more to get behind the wheel of a Sorento, but you gain extra passenger space and cargo room. Compare the 2019 Kia Sportage to the 2019 Kia Sorento for yourself when you come in to test drive one of our new Kia models and figure out which model best suits your needs. Visit Phil Long Kia in Colorado Springs!
---
Other Kia SUV Comparisons:
2019 Kia Sorento vs Honda Pilot
2019 Kia Sportage vs Nissan Rogue
---
Make an Inquiry